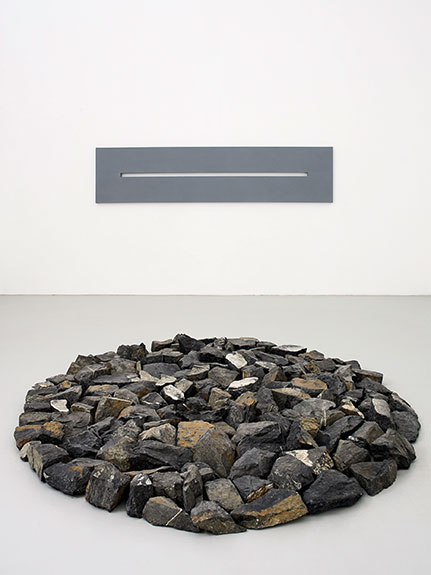 Donation Albers-Honegger, œuvres de Alan Charlton et Richard Long © eac
Adagp, Paris, 2017

Donation Albers-Honegger, œuvres d'Aurelie Nemours © eac
Adagp, Paris, 2017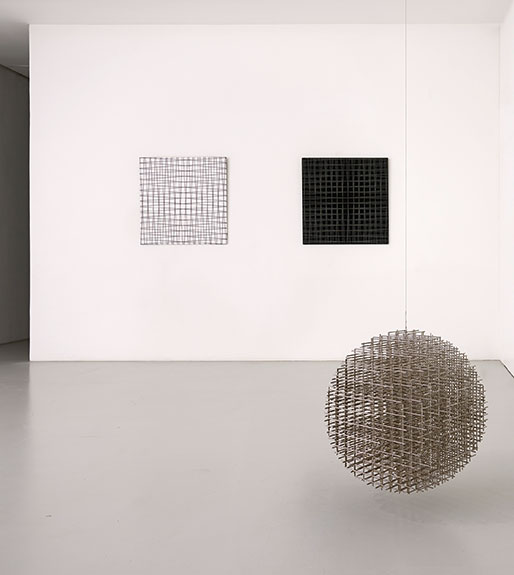 Donation Albers-Honegger, œuvres de François Morellet © eac
Adagp, Paris, 2017
Donation Albers-Honegger
The Donation Albers-Honegger, a collection unique in France, is classified as a National Treasure. More than 700 works from multiple currents of geometric abstraction are made available to the public.
This rich resource encourages a continual dialogue between works from many different horizons, between different theoretical propositions, and specific sociological and political contexts.
The Donation Albers-Honegger brings together works given to the French state by Gottfried Honegger and Sybil Albers with the donations of Aurelie Nemours, Gilbert Brownstone, and a number of other artists. The entire collection is included in the inventory of the Centre National des Arts Plastiques and permanently housed at the Espace de l'Art Concret. While the heart of the collection is built around the works of renowned members of the Concret Art movement, both Swiss (Max Bill, Richard Paul Lohse, Camille Graeser, Gottfried Honegger) and French (Bernard Aubertin, Jean-François Dubreuil, François Morellet, Aurelie Nemours), the collectors situated the ensemble in the long history of European abstract art since 1900. Thus Art Concret is thus seen prefigured in the works of Augusto Giacometti and Georges Vantongerloo, or those of Sonia Delaunay and František Kupka. Faithful to the universal spirit of Art Concret, the collectors did not limit themselves to purely geometric works. They enlarged the scope of their collection by including remarkable and sometimes surprising works that can claim a link to this historical movement in a manner that makes it a work of art in and of itself.
It seems evident today that the important figures of Minimalism or Conceptual Art would be included in the permanent collection (Joseph Beuys, Daniel Buren, Alan Charlton, Richard Long, Helmut Federle, Imi Knoebel, Olivier Mosset, Bernar Venet, Franz Erhald Walther from Europe or Carl Andre, Robert Barry, Dan Flavin, Donald Judd, Joseph Kosuth, Richard Serra from the United States). It is less evident that artists linked to Arte Povera (Manzoni), Support-Surface (Claude Viallat) or New Realism (Tinguely) should appear there also. It is testimony to the two collectors' visionary spirit that they chose to examine the rigorous principals of concrete art as they have been explored in the most radical movements of the twentieth century. 
This independent, almost impertinent, vision underlies the entire collection. Its historical impact is enlarged by the unexpected new territories it explores. The collection is also the fruit of a story: that of Gottfried Honegger, a Swiss artist who himself set off to conquer the language of geometric abstraction at the beginning of the 1950s, and that of Sybil Albers, his companion. Zurich, Paris, and New York were the first steps along the way of this long journey. Encounters and friendships unfold discreetly as one discovers the collection. 
The Campbell Soup can, dedicated by Andy Warhol, works by Sam Francis and Kimber Smith serve as reminders of Gottfried Honegger's unwavering bonds with the United States. Works by César and Yves Klein testify to privileged relationships with French artists. Sybil Albers and Gottfried Honegger were always receptive to contemporary work, collecting pieces by young artists and non-traditional art forms. Works by Raphaël Julliard and Dominique Dehais echo the serial aspect of Art Concret as well as the social implications of an artist's work. Cedric Tessière's « skin paintings » and paintings made with chewing gum by Dominique Figarella demand consideration of an artist's use of materials and the pictorial gesture itself. Works by Laurent Saksik bring larger format works into the collection and consider art as installation. 
Finally, Sybil Albers and Gottfried Honegger have brought together an exceptional ensemble of modern design, notably chairs (Paimo armchair by Alvar Aalto, Wassily armchair by Marcel Breuer, Wiggle side chair by Frank O.Gehry, Panton chair by Verner Panton...) which exemplifies the democratization of art so important to the founders of Art Concret, and to the collective and social implications of the movement.
A complete data base of all works in the Donation Albers-Honegger can be found on the website of the Centre national des Arts plastiques: 
http://www.cnap.fr/collection-en-ligne/ (search words: Donation Albers-Honegger)